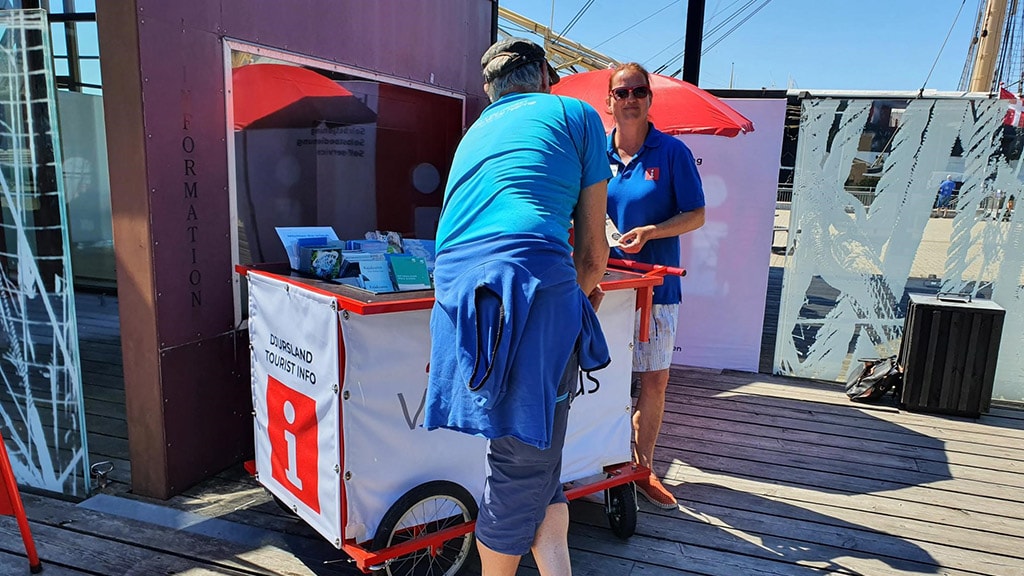 Meet the Greeting Team in Ebeltoft
Pop by our greeting team in Ebeltoft. Here, you will get customised information and inspiration based on what you like to do.
You will find us in the area between Fregatten Jylland and the fishing harbour – exactly where, varies.
Friendly Service Served with a Smile
Even though we live in a digitised age, there still are some things Google cannot provide, such as personal and friendly service. This is where out greeting team comes in. We will welcome you with our friendly service, and our only agenda is to make sure you have the best possible time during your stay on Djursland.
We know the big attractions, historical museums, large selection of restaurants and accommodation, as well as the hidden gems that will simply be the cherry on top of your stay.
If you need to know the way to the nearest toilet or where to find a family-friendly beach, we can definitely help you with that, as well.
"Pop-Up Tourist Office"
Besides our usual on-the-go tourist office in Ebeltoft and Grenaa, this year, you will meet our greeting team in various other places. They will move around the peninsula of Djursland and be present on locations with a large number of guests. On sunny days, it might be on the beach, and on other days, you will meet them at other popular locations.
If you visit National Park Mols Bjerge, stretching out 180 square kilometres across Djursland, you will meet the national park guides on several locations.
The national park guides are ready to guide you with information and directions that will take you to some of the less known spots in the national park. This way, you get to experience an even bigger part of the beautiful area, just as this helps prevent that the visitors to the national park all gather at one spot. You will meet the guides at Kalø Castle Ruins, the visitor centre Visitor Center Øvre Strandkær, Maltfabrikken and Marinelab at Vibæk Strand beach.